The head of NIOA's weapons and munitions division says harnessing the power of industry to quickly mobilise sovereign capability will be a key test of the Defence Strategic Review (DSR) due out early next year.
Ben James has told an Australian Industry & Defence Network (AIDN) dinner in Brisbane that Australia is lagging in defence preparedness, pointing to comments this week by Defence Industry Minister Pat Conroy that the acquisition of military equipment needed to be fast-tracked in light of the deteriorating global strategic environment.
Another report released this week by PwC Australia "Maximising Australia's AUKUS Opportunity" doubled down, calling for an urgency in Defence procurement processes "at scale and speed not seen in the past three decades".
The DSR, being conducted by former defence minister Stephen Smith and former defence force chief Sir Angus Houston, is assessing the Australian Defence Force's structure and posture.
It is expected to be handed over to the Australian Government by February.
James, who is overseeing NIOA's delivery of Tranche 1 of the ADF's LAND159 Lethality Systems Program and the company's growing munitions manufacturing footprint at Benalla in Victoria, hoped the findings of the DSR would be a catalyst for Defence to focus on three key areas: "Moving faster in selected capabilities"; "investing in long-term sovereign solutions"; and "letting industry do what industry does best".
"It's safe to say Australia is well off the pace in terms of what our nation needs to be doing to prepare for and possibly sustain ourselves in an increasingly rough neighbourhood," James told the AIDN Queensland gala dinner guests representing defence SMEs, primes, government and the ADF.
"If we can establish effective, long-term relationships of trust and mutual benefit with Defence, there is no reason that the power of industry could not be better harnessed to address some of these challenges.
"Bringing industry into the tent at an earlier stage of the capability life cycle – helping to set requirements, undertaking rapid market analysis helping to define problems and the possible solutions required within specified time frames - could lead to better Defence outcomes."
James singled out NIOA's $15 million investment to reinvigorate manufacturing at the Government-owned, Contractor-operated facility in Benalla as an example of a sovereign capability solution over the quick fix of relying upon Foreign Military Sales.
"Growing sovereign capability involves supporting Australian companies to partner with global primes, bring knowledge, practices and intellectual property to Australia, and invest in developing that capability here," he said.
"For NIOA, an initial order in 2018 to acquire 30mm ammunition for the ADF's fleet of Boxer Combat Reconnaissance Vehicles enabled us to make a further investment in a medium calibre Load, Assemble and Pack line at Benalla.
"Similarly, the company has committed to invest a further $50 million in a 21st Century weapons manufacturing facility to support the ADF, commercial markets and international exports.
"If we work together with Defence…industry can move fast to deliver 21st Century capabilities for our warfighters while investing in building sovereign capability, here in Australia."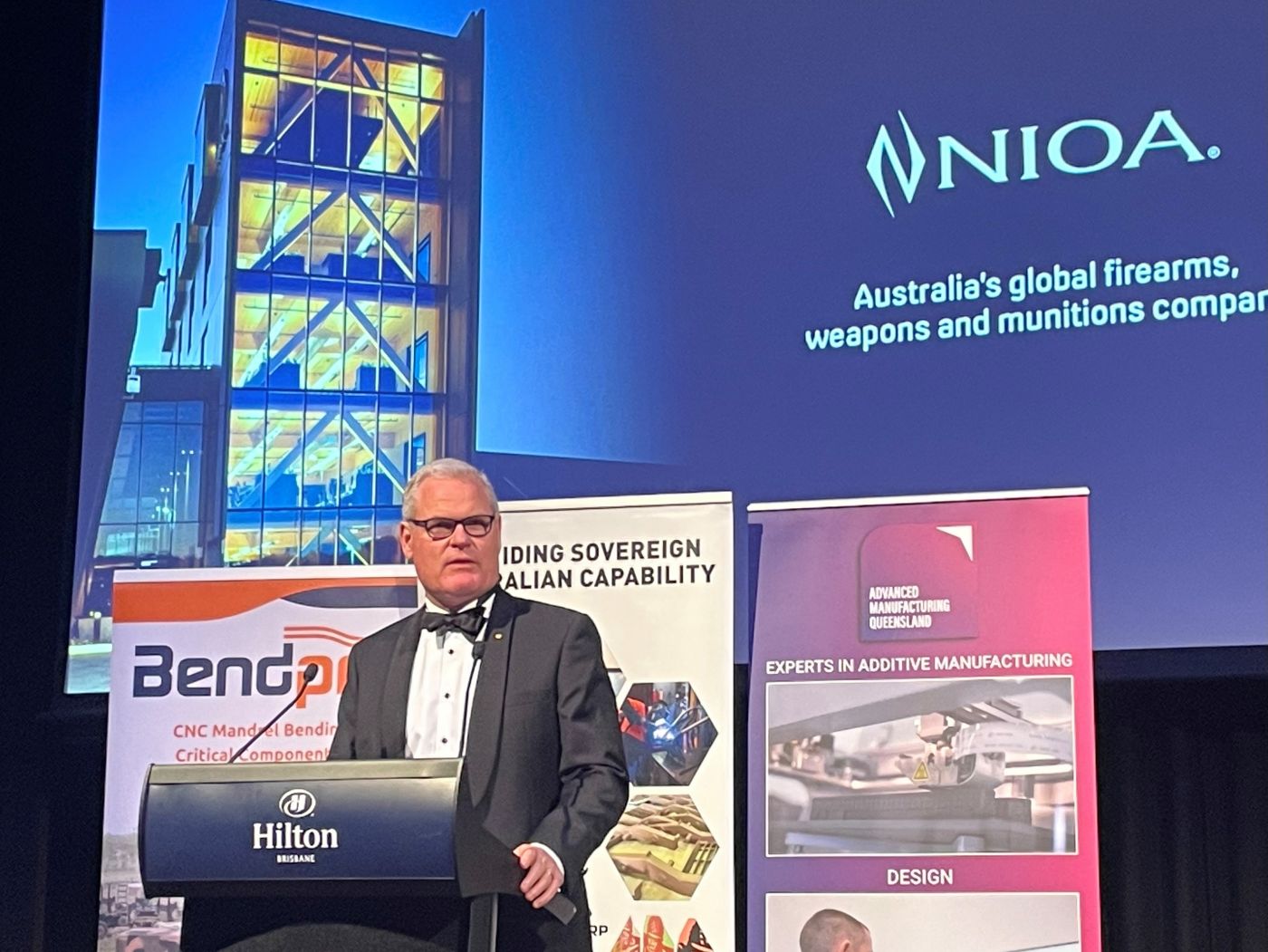 NIOA General Manager – Weapons and Munitions Ben James tells the AIDN Queensland dinner that greater and earlier engagement with industry is the key to rapidly mobilising domestic military manufacturing.