Legacy volunteers, veterans and war widows from the Fraser-Burnett region have had a sneak preview of Rheinmetall NIOA Munitions' new projectile plant in Maryborough.
A group of 20 guests, including Legacy Brisbane CEO Brendan Cox, were given an exclusive tour of the $90m facility by RNM project manager Jeff Crabtree who was joined by RNM director Jackson Nioa and NIOA COO Nigel Everingham.
The special visit came as the factory began producing the first batches of projectiles from a $17 million-dollar, 1250-tonne hot metal forge.
The 155mm artillery shells will eventually be used by the Australian Defence Force and exported to allied nations.
In welcoming Legacy visitors, Mr Everingham said the charity was part of the NIOA family. The company is the major sponsor of Legacy Brisbane for the next three years.
"You are some of the first people outside of the defence industry to see this," he said. "We welcome you and thank you for the sacrifice you have all made to our nation and your commitment to Legacy.
"You have all been affected directly or indirectly by war in some way. The defence community is close to NIOA's heart and we are aligned with Legacy's mission of supporting families of our servicemen and women."
The Fraser-Burnett branch of Legacy has about 30 Legatees who assist up to 1000 families in the region.
Legacy Brisbane CEO Brendan Cox said Legacy and NIOA shared a common purpose to support the defence community.
"I first met (NIOA CEO) Rob Nioa a few years ago and not only has he shown great personal support but also corporate support," he said.
"We don't receive government funding so these relationships are important. Without NIOA's support we simply could not sustain the services we provide.
"NIOA has said 'we are with you – with your family'. So today is really about family – sharing stories between us. What NIOA is doing here in Maryborough…and what's Legacy's story here in the Fraser-Burnett region.
"The Legacy story is strong and we see it here today, in front of us. I thank all Legatees for what you do.
"Your selfless service to war widows is reflective of that great Australian characteristic of service to your community. You live it, you love it and we do our best to support it."
Eighteen-year Legacy volunteer and RAAF veteran David Charles told how Legacy had helped his mother and their family after his WWII veteran father was killed in a freak accident in 1947.
"My parents used to go for a morning walk up the street, they were maybe a hundred metres up the street when my father spotted a coil of wire by the edge of the road," he said.
"My father said 'I'd better move that in case a kid on their bicycle has an accident'. It was a downed powerline. He was killed instantly while my mother tried to drag him away and she received severe burns.
"As a six-year-old I was now man of the house. Earlier that year Legacy had started here in Maryborough.
"Periodically I would be called to the headmaster's office at school – not to be disciplined – but to receive a parcel of items from Legatees that helped us out.
"But the highlight of the year was the annual Legacy picnic. The Legatees would pick us up and take us for a day out.
"My appreciation for what Legacy did for my mother, my siblings and me has never waned."
For former Digger and Legacy fundraiser Stephen Howlett the partnership of Legacy and NIOA epitomised community spirit.
"Any individual or Australian company that can support Legacy is greatly appreciated, but a local company like NIOA makes it really special," he said.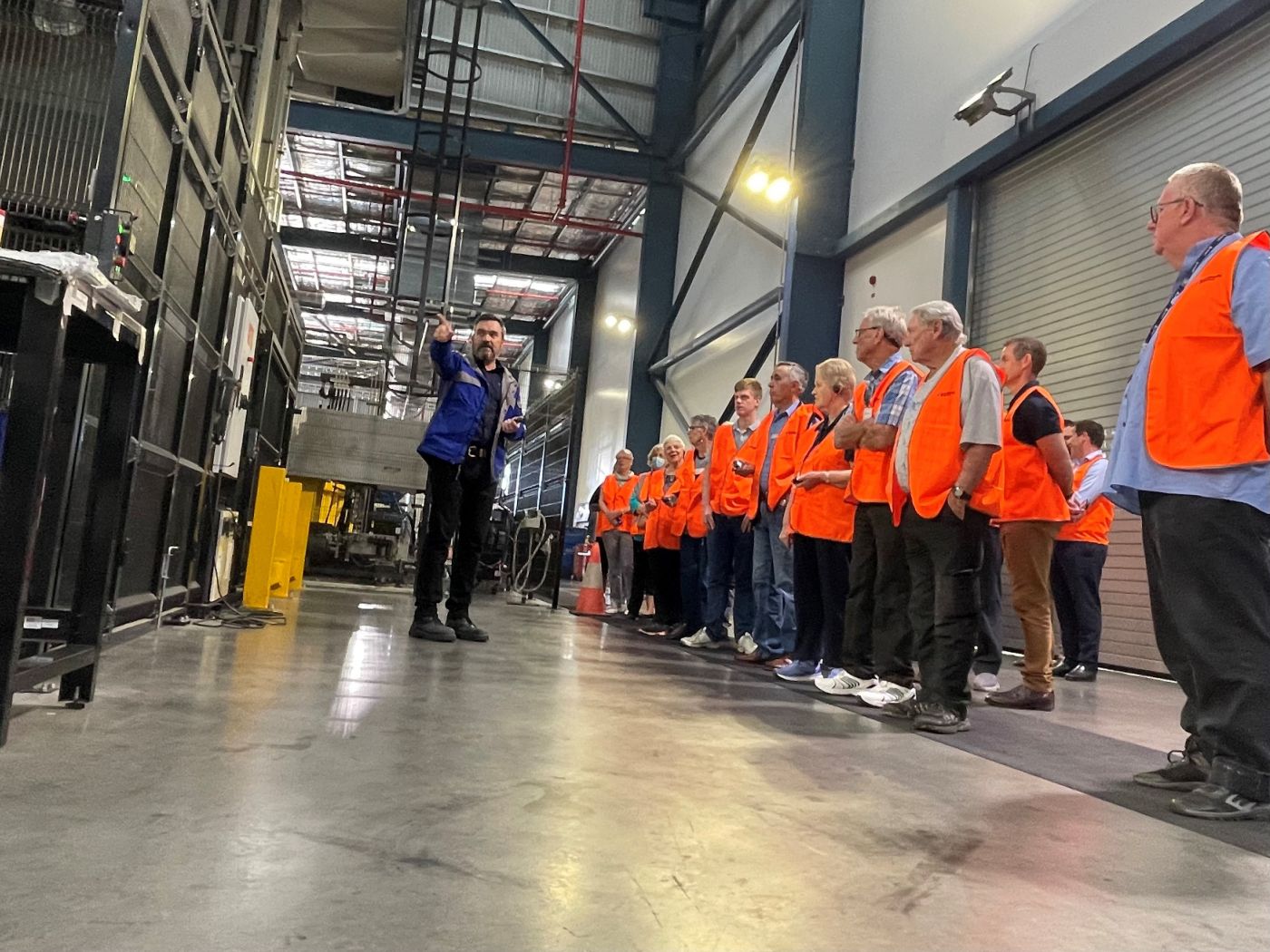 RNM project manager Jeff Crabtree shows Legacy volunteers the hot-forge press that will produce artillery shells for the ADF and allied defence forces.