NIOA and Electro Optic Systems (EOS) are pleased to announce the signing of a Memorandum of Understanding to jointly pursue opportunities to enhance and support EOS Remote Weapon Stations and weapon systems.
The scope of the EOS-NIOA agreement will cover capability growth of Remote Weapon Stations from EOS, and weapons systems, advanced ammunition and support from NIOA. The potent combination of world leading Remote Weapon Stations and advanced weapon systems and munitions will provide the Australian Defence Force with intelligence, surveillance and reconnaissance (ISR) and lethality advantages on the battlefield.
The recognition of the strategic alignment between EOS and NIOA allows for the mutual pursuit of business through the promotion and support of Australian Industry Capability (AIC) and surety of supply aligned with the Commonwealth of Australia's Defence Industry Capability Plan.
NIOA CEO, Mr Robert Nioa said "EOS maintains an enviable position as both a market leader in remote weapon stations and an Australian export success. Working alongside EOS, NIOA will increase Australian Sovereignty across the EOS offerings for Remote Weapon Stations. NIOA welcomes all opportunities to advance the capability of the Australian Defence Force."
Grant Sanderson CEO, EOS Defence Systems is pleased to join NIOA in this strategic relationship. "The NIOA and EOS agreement will allow for the mutual pursuit and capture of remotely controlled lethality opportunities within Australia and the region. NIOA's reinvigoration of munitions manufacture at Benalla provides our customer sovereignty over ammunition supply and expanded opportunity to increase the firepower available to the ADF. The cooperation of EOS and NIOA on current and future advanced weapon systems will support the ADF's adoption of advanced remote and autonomous systems."
ABOUT Electro Optic Systems PTY LTD
Electro Optic Systems Pty Ltd is a leading Australian technology company, and largest defence exporter, operating in the space and defence markets. Our products incorporate advanced electro-optic applications based on EOS core technologies in software, laser, electronics, optronics, gimbals, telescopes and beam directors, and precision mechanisms.
ABOUT NIOA
NIOA was founded in regional Queensland in 1973 and is the largest Australian owned weapons and munitions Prime Contractor. Committed to the development of Australian sovereign capability, NIOA is investing $130m in domestic munitions and explosives manufacturing over the next five years, including a $60m artillery shell forging plant in Maryborough, Queensland with joint-venture partner Rheinmetall Waffe Munitions, an upgrade of the Commonwealth Government-owned Benalla munitions plant in Victoria and an $11m expansion of its Brisbane warehouse and distribution facility. The company recently secured Stage 1 of Tranche 1 of the LAND 159 program to modernise the Army's weapons systems and in 2018 was awarded the $100m LAND17-1C.2 future artillery ammunition contract.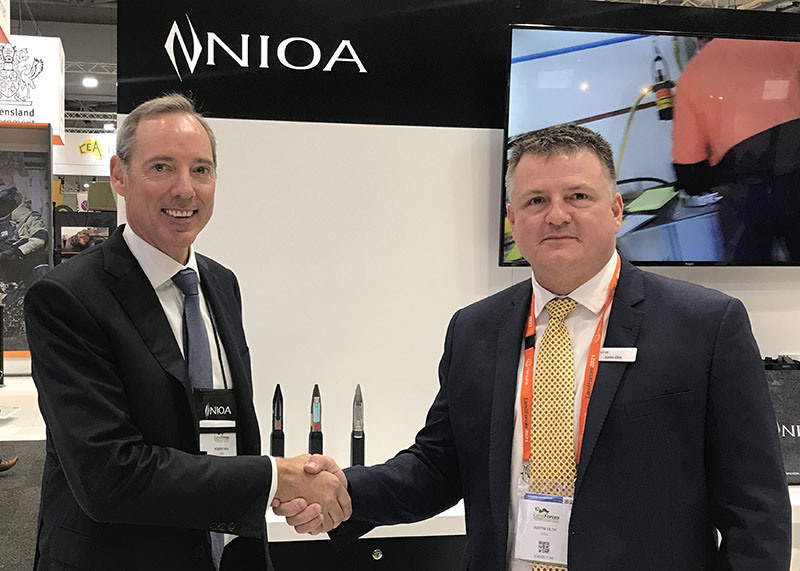 Rob Nioa (NIOA) with Justin Olde (EOS)