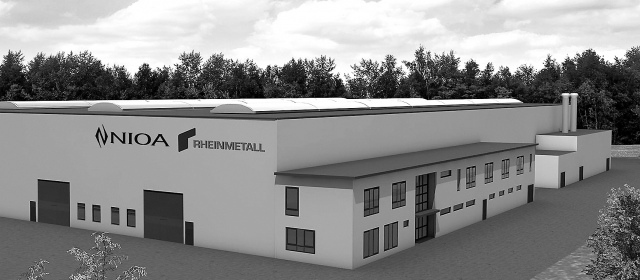 PRESS RELEASE
Rheinmetall NIOA Munitions today welcomed the announcement by the Queensland State Government that it would provide $7.5 million in support to establish a 155mm shell plant in Maryborough, Queensland.
A $60 million greenfield development, the new facility will be capable of manufacturing the world's most sophisticated and technologically advanced artillery shells for both the domestic and export markets.
Construction of the new facility is expected to commence in the second half of 2019, with the plant to be fully operational by 2022, creating up to 100 new long-term jobs in the Maryborough region.
The application for funding was approved under the State Government's $150 million 'Jobs and Regional Growth Fund', which aims to support projects that will have a significant impact on a regional community such as the Fraser Coast Region.
Werner Kraemer, CEO Rheinmetall Waffe Munition and Chairman of Rheinmetall NIOA Munitions, stated that "the planned forging facility in Maryborough is an essential cornerstone for supporting the Australian Land Forces' Land 17 programme, and underpins Rheinmetall's strategy of creating new, highly skilled jobs in Australia. Furthermore, the Maryborough facility will help Rheinmetall establish a long-term sustainable supply chain for ammunition components serving different export markets."
Robert Nioa, Managing Director of NIOA and Director of Rheinmetall NIOA Munitions, said that "this strong show of support by the state government will help deliver real benefits to the local community in Maryborough for decades to come by creating up to 100 local highly skilled jobs. The establishment of this new state-of-the-art facility will help to create a sovereign munitions manufacturing capability and ensure that future munitions supplied to our forces will be Australian made."
He also paid tribute to the State Member of Parliament for Maryborough, Bruce Saunders MP, for his strong advocacy for the project. "The local member for Maryborough has worked tirelessly to help deliver a positive outcome for the project. It's great to see the local member advocating so hard for his local community, helping to deliver solid outcomes and real jobs".
The project remains subject to final approval of the company's application for $28.5 million in funding to the Federal Government's 'Regional Growth Fund'. A final determination on the application is expected before the end of March 2019.
Media Contact:
Nigel Everingham 07 3621 9999 or media@nioa.com.au