With the continued growth at NIOA we welcome the following professionals to our team:
Bianca Paulson – Scheduler
Bianca joins NIOA as an experienced Master Scheduler who has experience working within the Defence Industry. Bianca enjoys bike riding and spending quality time with family.
Alexander Brown – Production Worker, Benalla
Alexander joins the growing NIOA team at Benalla having previously worked on a number of farms and other outdoor roles in the Benalla region. Alexander grew up in the same area and is involved in competition rifle shooting at Wangaratta rifle club and has been a member since 2012, he also enjoys reloading his own ammunition for both competition and hunting.
Don Facchino – Corporate Development Analyst
Don is a highly experienced Analyst with skills in, financial modelling of large capex projects and competitor financial analysis, qualitative analysis of industries (Structure, life cycle etc..) and the strategic positioning of companies within those industries. Don is a chartered Financial Analyst and holds a Bachelor of Economics (Accounting) and a Graduate Diploma in applied Finance and investment.
Janelle Hartwig – Finance Administrator / Scheduler, Benalla
Janelle joins NIOA with a wealth of experience having spent 14 years' experience in the Explosive Ordnance industry.Prior to working in the Defence sector, she worked in the construction and manufacturing sectors. Janelle has a Bachelor of Business Degree in Accounting.
Douglas Drake – Strategy Analyst
Doug joins the team as a Strategy Analyst as part of the Corporate Development team. Doug has an extensive background in Commonwealth and Queensland Government across Defence, Communications and Public Safety roles. Doug has a Master of Project Management and Bachelor of Economics and Commerce.
Sarah Brond – Team Leader, Production
Sarah joins the Benalla team with over 22 years' experience on the site, having worked in in multiple production buildings, Primary Explosive, Pyrotechnic, High Explosives, 20mm/25mm rounds for the ADF. Sarah has spent the past 11 years in Supervisory and Team Leader roles.
Mathew Knight – Store Person
Mathew joins the NIOA warehouse team with a Cert II in Engineering and a Cert I in Construction, having finished school in 2020.
Darnell Parry – Store Person
Darnell joins NIOA in the warehouse team with a Cert III in Process Manufacturing, Cert I in Business and Cert I in ICT.
Michael Cahill – Business Manager, LAND
Michael served over 15 years within the Australian Army as a logistics officer. Throughout his career he has worked in capability acquisition on the M777A2 project and served in Armoured, Artillery and Logistics units, predominantly in Darwin. Career highlights include opportunities to work closely with our Allies including the New Zealand Defence Force, US Marine Corps, US Army, US National Guard and the Japanese Ground Self Defence Force and deployments to both Afghanistan and Iraq.
Shannon Nicholson – Contracts Manager
Shannon is an experienced Contracts Manager who has over 20 years' experience in the contracts management and has extensive knowledge and skills specifically in the development and implementation of large complex commercial activities. Shannon has worked across the Defence, Mining and Banking sectors having led the commercial activities for the Satellite Communications team at BAE Systems and the Propulsion Systems for the Air Warfare Destroyer at ASC. Shannon holds a Diploma in Business – Procurement, amongst other Defence centric training and has a demonstrated knowledge of Defence Procurement Policy.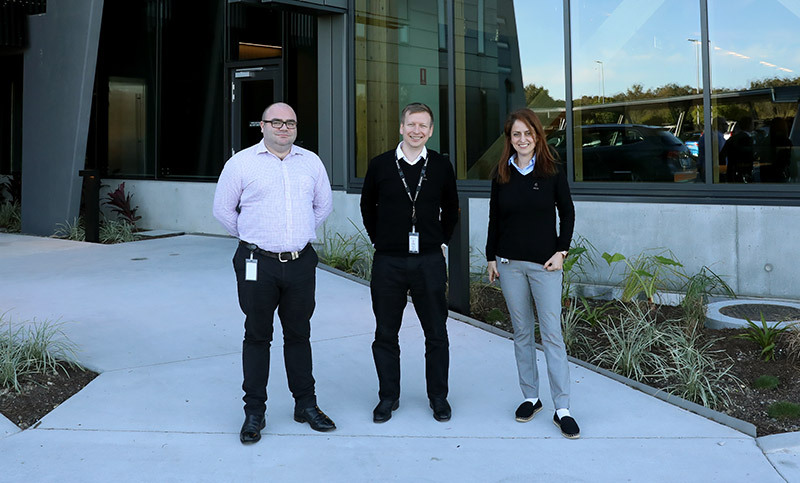 Shannon Nicholson, Douglas Drake and Bianca Paulson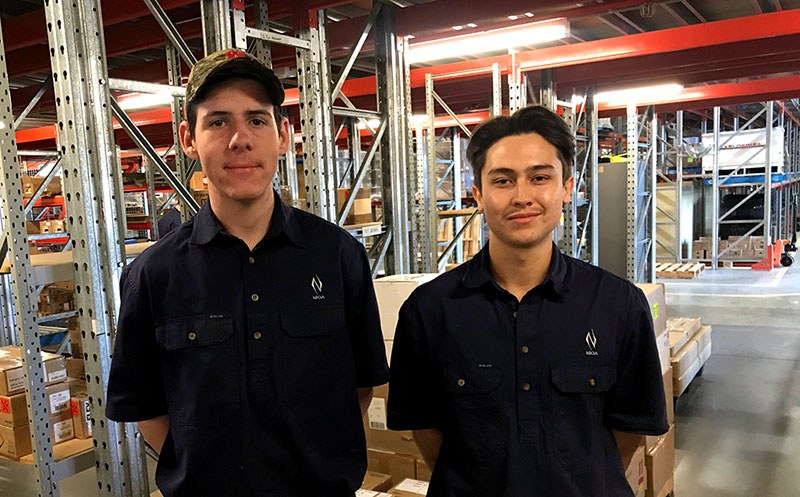 Mathew Knight and Darnell Parry at the NIOA Warehouse