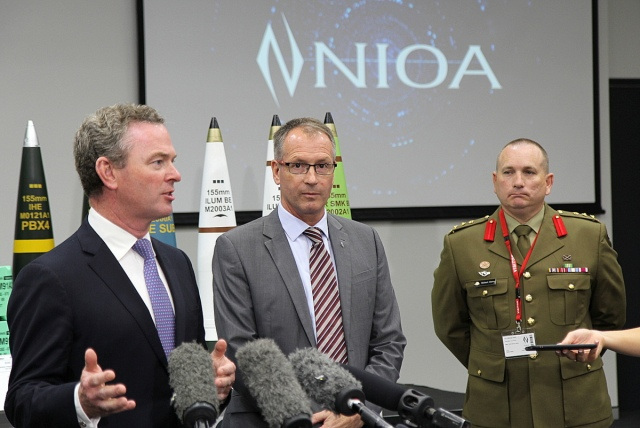 Minister for Defence Industry, the Hon Christopher Pyne, visited NIOA at their Brisbane headquarters today, to congratulate them on being awarded the contract to supply a suite of advanced 155mm ammunition under the LAND 17-1C.2 Future Artillery Ammunition program.
NIOA will supply the modern high performance Rheinmetall ASSEGAI 155mm projectiles, including HE, HE-ER, PRAC, HES, SMOKE, Visual and IR Illumination projectiles, modular charge systems and a range of high performance fuzes from JUNGHANS Defence.
"NIOA's partnership with Rheinmetall Defence, their subsidiaries and Junghans Microtec, demonstrates the innovative approaches embraced by Australian companies to ensure our military is equipped with the best capabilities in the world. This ammunition will replace an ageing ammunition stock, providing increased range and lethality, as well as a greater range of effects such as infrared illumination to enhance the Army's advanced night fighting capability." Minister Pyne said.
The contract includes a program to fully qualify the ammunition family in the BAe Systems M777A2 Lightweight Towed Howitzer, including integration into the AFATDS automated fire-support Command and Control (C2) system, followed by the supply of high performance war stock. It is anticipated that annual training requirements will be added to the contract upon successful completion of the qualification program.
Robert Nioa, managing director NIOA, said "We are very proud to have successfully assembled the "best of breed" team in Rheinmetall Defence, their subsidiaries and Junghans Defence, resulting in the successful negotiation and award of this contract. I commend the outstanding cooperation and support we have received from our international partners and I also commend the Commonwealth on the professional management of this program, with all milestones being successfully delivered to date. We now look forward to the challenge of qualification and integration to the M777A2, and successful delivery of this advanced capability to our warfighters."
Established in 1973, NIOA is Australia's largest privately-owned company supplying weapons, ammunition and technical support to commercial, military and law enforcement markets.