In a major step towards the local production and supply of naval munitions, NIOA has revealed it will team up with one of the world's leading military manufacturers.
The Australian-owned defence prime has used the Land Forces 2022 International Defence Exposition in Brisbane to announce a strategic partnership with German defence equipment manufacturer Diehl Defence.
Under the agreement, Diehl will transfer technology to NIOA to enable Australian production of the Diehl 5" naval munition family including high explosives, practice projectiles, propelling charges.
Besides the conventional ammunition portfolio of Diehl, NIOA and Diehl are also evaluating possible cooperation in the areas of the guided long range ammunition capabilities and products of Diehl Defence.
Diehl is a global defence company and leading supplier of high-tech guided missiles and innovative ammunition solutions, and an experienced manufacturer of naval ammunition, having previously supplied 76mm rounds to the Royal Australian Navy.
NIOA hopes to utilise its newly commissioned joint venture Rheinmetall NIOA Munitions [RNM] plant in Maryborough, Queensland for shell case production while the filling and finishing would occur at Benalla in regional Victoria where NIOA has a long-term lease at the Commonwealth Government-owned munitions facility.
Diehl Defence CEO Helmut Rauch said the collaboration with NIOA was a significant step forward for the two companies and comes 15 months after they signed a memorandum of understanding to support sovereign munitions manufacture.
"This agreement paves the way for Diehl to bring its world-leading expertise to Australia to support NIOA in the development of sovereign capability," he said.
"Our highly advanced naval ammunition is used by navies worldwide and ensures the highest level of effectiveness and safety for a warship and its crew."
NIOA Group CEO Robert Nioa said: "NIOA and Diehl share the same strategic ambitions - to build defence capability.
"Diehl is known worldwide for its ammunition technology. This partnership means we are well positioned to accelerate the Australian manufacture of superior naval munitions, ensuring supply surety for the ADF."
NIOA has invested more than $15 million in upgrades at Benalla over the past two years, including $2m to provide a permanent base for the company and another $13m to reinvigorate manufacturing capabilities.
The NIOA tenancy houses the ADF's domestic production facilities for primary energetics, pyrotechnics, medium calibre, mortar and tank ammunition, hand grenades, fuzes, primers and various munitions test facilities.
The $90m RNM factory in Maryborough is the most advanced artillery shell forging plant of its type on the world, using a 1250-tonne hot forging press and computerised machinery to produce 155mm projectiles and metal parts for other munition variants.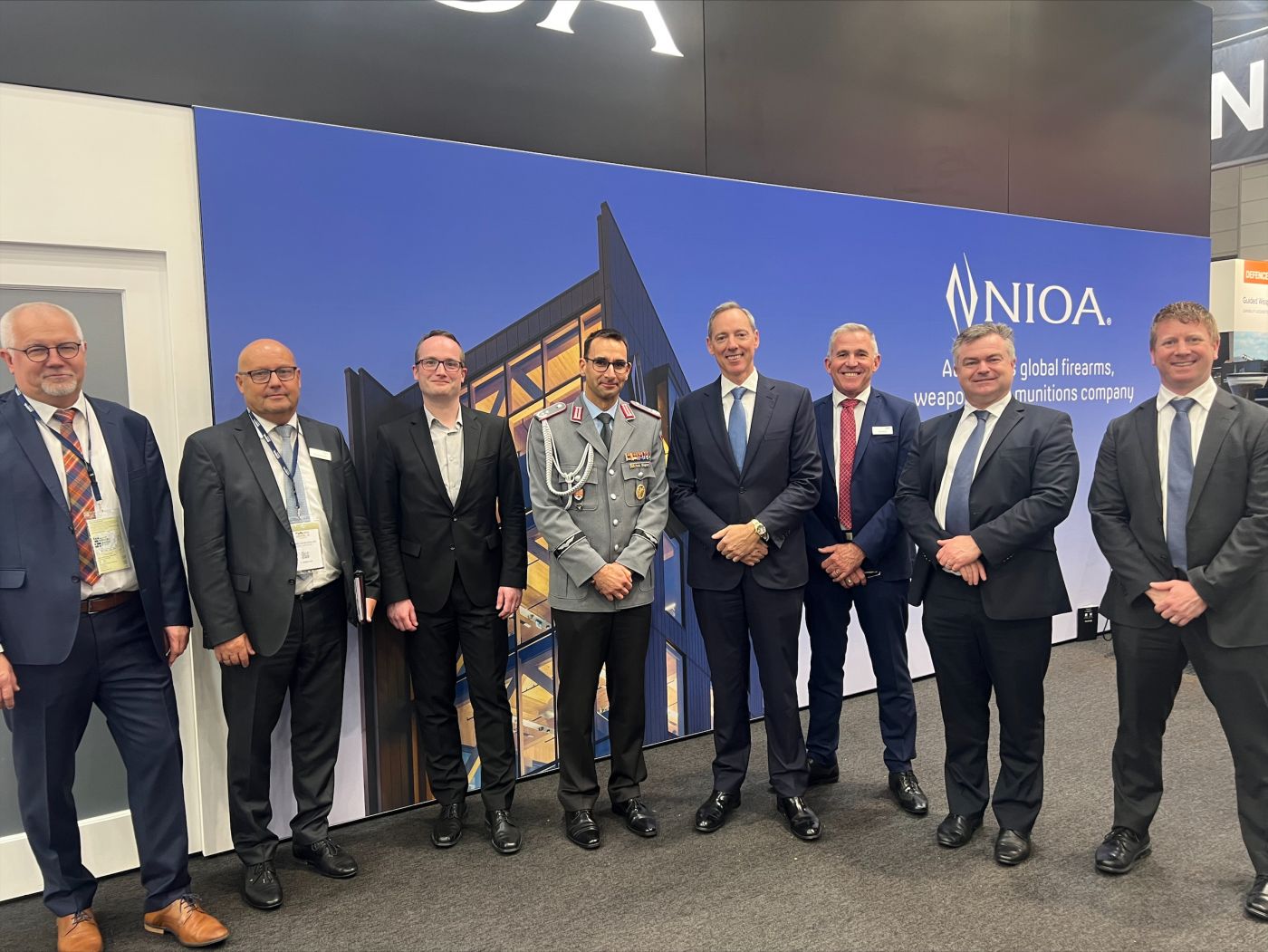 Diehl Defence's Thomas Arm, from left, and Bernd Scheuerlein, German Defence representatives Johannes Woermann and LTCOL Alois Wagner, NIOA Group CEO Robert Nioa, Diehl Defence GM Military Systems ANZ David Bloor, NIOA's Business Development Manager Matt Cliff and Mick Cahill, Business Manager – LAND.