NIOA has revealed its upgraded small arms testing complex following a multi-million dollar investment to support the next-generation weapons systems for Australian soldiers.
Building on its state-of-the-art testing capability in Brisbane, NIOA has injected an additional $1.1m in specialist equipment and instrumentation over the past 18 months and has provisioned a further $1.4m in purchases as it targets the next tranche of the LAND 159 Lethality Systems Program.
This comes on top of a recent $11m investment in collaboration spaces for NIOA and Commonwealth technical and engineering staff, taking the total spend at the company's Brisbane headquarters to $40m.
Tranche 2 of LAND 159 will include a close combatant family of weapons, machine guns, direct fire support weapons and a contemporary family of grenades.
The fully instrumented range, which opened in 2014, is the only indoor 100m range in Australia rated for the firing and data acquisition of small arms through to medium calibre cannons up to 40mm.
It had an intensive workout over the past year as NIOA completed Stage 1 of Tranche 1 of the LAND 159 program, encompassing test, evaluation, data analysis and source evaluation recommendations for the latest sniper and close combat weapon systems for use by the ADF. This included:
More than 500 safety and suitability for service (S3) and system confidence firing test serials.
Data acquisition and analysis for more than 13,000 close combatant and 4200 sniper system weapons instrumented firings.
NIOA General Manager for Engineering Rudi Bekker said the company's test and evaluation capability was world class – and it was now gearing up for the future.
"The T&E capability going forward will require best of class equipment operated and analysed by homegrown industry subject matter experts," he said.
"For Stage 1 of Tranche 1 we invested more than a million dollars in equipment purchases.
"We've additionally invested in the upskilling of our technical team during this period with training provided in areas systems engineering, video data analysis, weapons design and laser safety."
NIOA is the largest sovereign supplier of firearms, weapons and ammunition to the ADF, law enforcement agencies and commercial markets.
The company has committed to building a $50 million small arms factory in either Brisbane, Lithgow in New South Wales, or Benalla in Victoria if it secures Tranche 2 of LAND 159.
NIOA has a long-term lease at the government-owned, contractor-operated munitions plant in Benalla and recently established a corporate base in Lithgow, which has been a centre for small arms manufacturing for more than a century.
NIOA CEO Robert Nioa said: "These are key Australian sovereign defence capabilities needed to support the war fighter and provide a lethality overmatch. Our investment reinforces our commitment to creating a strong T&E foundation on which to grow a sovereign manufacturing base."
Munitions and small arms research, design, development and manufacture have been identified as one of the Federal Government's top Sovereign Industrial Capability Priorities (SICP).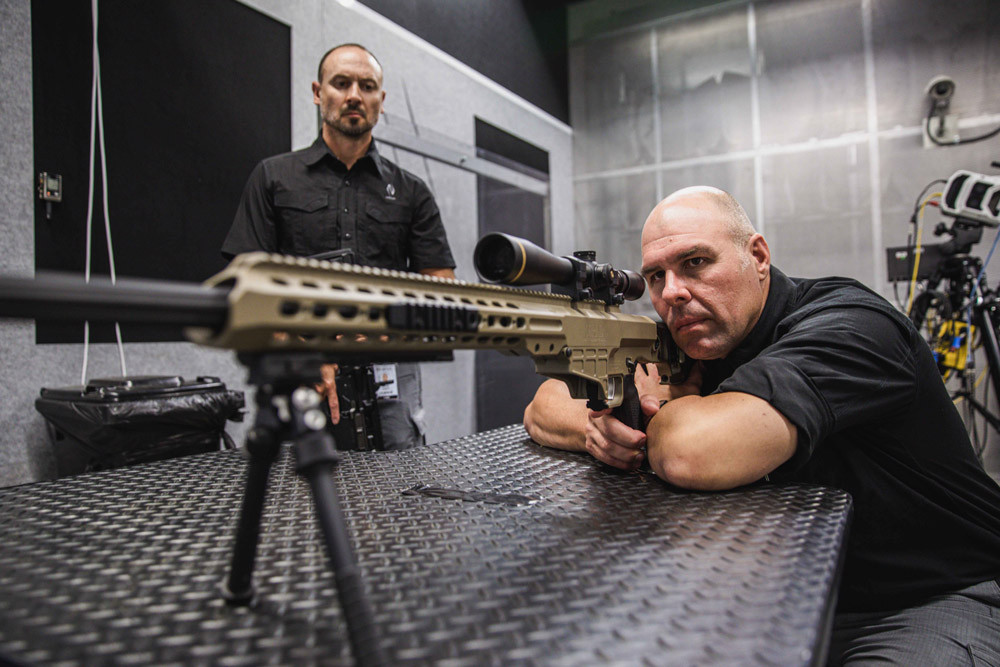 NIOA's Richard Basladynski, right, and Jason Jonker at the company's indoor testing range which has had a major equipment upgrade
to evaluate the latest weapons systems for the Australian Defence Force.