NIOA welcomed Legacy Brisbane CEO Brendan Cox to the Brisbane facility to hear how the iconic charity is helping thousands of veterans' families and the key role NIOA will play in this noble mission over the next three years.
Legacy Brisbane supports more than 6000 family members of fallen and injured veterans across southeast Queensland, central and western Queensland providing financial and emotional support as well as developmental opportunities for children.
Last December NIOA announced a six-figure partnership which includes signature Legacy events such as the annual gala dinner in Brisbane, the Canungra Combat Challenge (C3) and Run Army plus mentoring and development opportunities for Legacy's Youth Leaders and Legatees.
No one knows better the power of Legacy's impact than NIOA advisory board member Mark Donaldson VC, himself a former Junior Legatee, who told the Brisbane gathering how the charity was there for him after he lost both parents when he was a teenager.
"For me it was about knowing they were there, and they cared," he told the audience via a live video link.
NIOA CEO Robert Nioa said the Legacy Brisbane partnership was the company's way of supporting the wider Defence community which had become close to NIOA's heart.
"Legacy was born almost 100 years ago on a promise a Digger made to his dying mate to look after his family," he said. "As we have grown and become a leader in the defence industry, we see this relationship with Legacy as a way we can support the extended defence community and those that need help.
"There is nothing more Australian than looking after your mates."
For NIOA staff, there are a number of ways to get involved, from recycling to running.
Funds from recycling of cans, glass and plastic bottles in the yellow bins at the Brisbane site will be donated to Legacy, while the first major fundraising event is the Run Army on Sunday, April 24.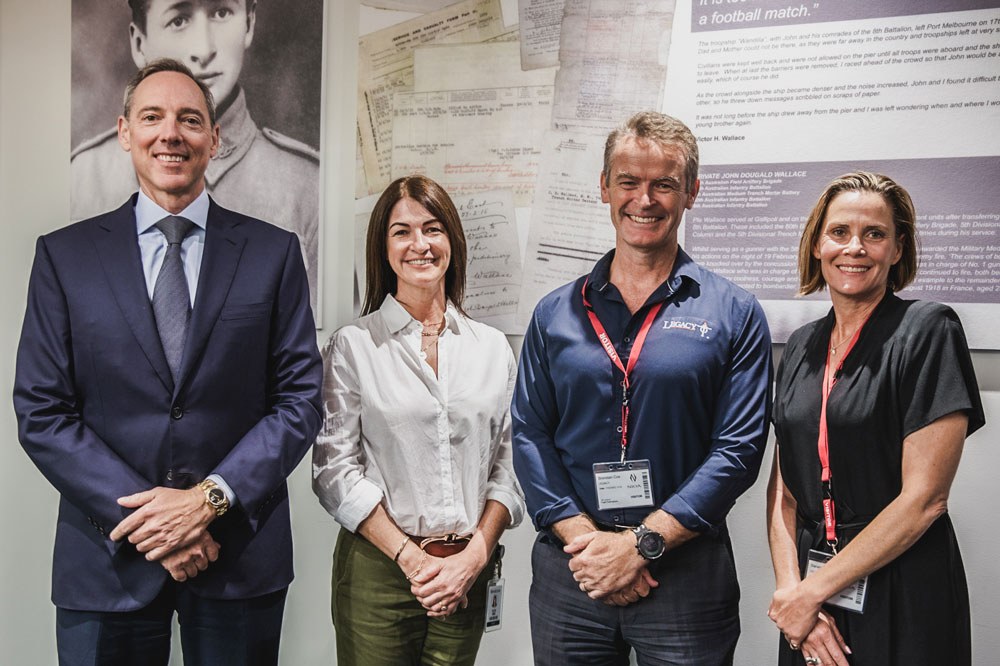 Rob and Eliza Nioa welcomed Legacy Brisbane CEO Brendan Cox and corporate partnership co-ordinator Sarah Forster to the Brisbane office to talk to the team about the work Legacy is doing in the community.
Legacy Brisbane CEO Brendan Cox shares some insights with Brisbane staff about how the charity is making a difference to the lives of thousands of Queensland families.