It's been a year of expansion for NIOA and recently we welcomed these people to our growing family. Each of them has already added so much to the team in their respective roles, and we are glad to have them on board.
Brad Johnson - National Sales Manager - Sporting
Brad Johnson joins NIOA as National Sales Manager – Sporting. Brad has 25 years' experience having undertaken many roles along the way. Brad brings with him extensive product knowledge from his years in the trade, and strong business relationships with our customer base. Having been in the industry for that long and seeing the many changes over the years, he is excited to put all his energy into his new role with NIOA.
Matthew Cotton – Global Trade Compliance Manager
Matthew joins NIOA as the Global Trade Compliance Manager and brings with him over 13 years of experience working in the field of Supply Chain and Special Operations within the Australian Defence Force , most recently as the Work, Health and Safety Manager for the Department of Defence – Estate and Infrastructure Group. Matthew is an experienced and seasoned veteran with an impressive 20 years of full-time service to the ADF.
Josh Nadler - Digital Content Creator
Josh is employed to support the Marketing Department as a Digital Content Creator. Josh is the in-house photographer, videographer animator and editor. He creates compelling video for promotional, documentational and program specific work. Josh comes from a freelance background and has been able to use his experience in corporate video, weddings and camera operating to offer professional digital video solutions to service our sporting, government sales and corporate audiences.
Jessica Redfern - Bids & Proposals Manager
Jessica has extensive experience in Bid & Proposals, working most recently at GHD – Engineering, leading their Defence Business Strategy. Jessica previously worked with Defence Prime Contractor Cobham PLC in Adelaide within their Special Mission and Defence Business. Jessica has a degree in Marketing.
Scott Jones – Cyber Security Specialist
Scott comes to the NIOA ICT team from Energy Queensland and Queensland Rail. Prior to working at Queensland Rail, Scott served in the Australian Army for almost 20 years as an Infantry soldier before moving into intelligence and other roles, with operational service overseas, e.g Afghanistan/Iraq. Scott holds Bachelor of Science (Security), a Masters of Policing, Intelligence and Counter Terrorism and a Graduate Certificate in Cyber Security.
Hayden McLoughlin
Hayden joins NIOA as a Paralegal within the Legal Team. Hayden is currently in his third year of his dual degree of law and business (majoring in Accounting) at Queensland University of Technology (QUT).
Adam Ingenillem - Store Person
Adam joins NIOA as a Store Person within our Brisbane Warehouse Team. Adam has over 20 years' experience in Warehousing and Logistics and has a Cert IV in Transport and Logistics. Adam has served 2 years in the Australian Army Reserves in Infantry, with 8th Brigade Headquarters and as a Gunner with 26th Field Artillery and looks forward to working with our NIOA Warehousing Team.
Amanda MacKinnell - AIC Manager
Amanda joins the NIOA Canberra team and brings with her experience in Australian Industry engagement with Northrop Grumman Corporation and most recently with the Centre for Defence Industry Capability. This demonstrates Amanda's commitment to helping Australian businesses engage and deliver into the Defence sector, particularly to bring innovative technology and market-leading capability to major Defence programs. A former Naval Officer, Amanda has also worked in the mining sector at sites in the Northern Territory and Queensland as well as a Principal Advisor with the Australian Maritime Safety Authority and as a consultant to Defence on C2 and naval engineering programs.
Martin Land - Explosives and Dangerous Good Specialist
Martin joins the Compliance team and has 34 years' experience in the explosives industry and as a Regulator with the Queensland Government. Martin joined ICI Explosives back in 1988 and held a number of positions within the company in the explosives manufacturing, disposal, mining and quarry areas. In 1999 Martin joined the Queensland Explosive Inspectorate as an Inspector of Explosives, initially in the field auditing and investigating industry before moving to Head Office to manage explosives licensing and security. This 22-year journey with the Inspectorate also included a number of high-profile cases including an Australia Day Award for his involvement in the detection and eventual apprehension by Queensland Police of Queensland's first terror suspect.
Delilah Bok – Barista
Delilah joins NIOA with seven years' hospitality (Events and Functions) experience, most recently with Gusto da Gianni Event Group at Portside Wharf, Hamilton. Delilah has completed Wolffe Roasters in house Barista course and brings extraordinary event and restaurant service, including Italian barista skills to NIOA for all our Brisbane team to enjoy.
Matt Shepley - Program Support for LAND 159
Matt has joined the team in Canberra as Program Support within our LAND 159 team, after commencing transition from Army following a 31-year career. His background includes operational, technical, and representational appointments, and a long association with Special Operations Command. His qualifications and experience in engineering, logistics and the Defence capability lifecycle will assist NIOA meet its LAND 159 obligations.
Schalk Laubscher - Junior Engineer
Born in South Africa, Schalk immigrated to Australia with his family at age 5 and grew up in Brisbane. Schalk graduated from The University of Queensland in 2020 with a Bachelor of Mechanical and Aerospace Engineering. During his time at university, he was a founding member of the student rocketry team, UQ Space, which competed against other university teams from around Australia and New Zealand in designing, building, and launching sounding rockets to altitudes of up to 30,000 feet. Schalk's experience includes an internship at Airbus and working at aerospace start-ups such as Valiant Space and Black Sky Aerospace.
Isaac Jennings - Business Support Specialist - Compliance
Isaac joins NIOA after a six-year career in the Royal Australian Navy (RAN) as an intelligence, and cryptologic sailor, having enlisted straight out of high school. During his time with the RAN, Isaac has almost entirely worked within classified environments in both strategic and operational settings, with a strong emphasis on protective security and legal compliance. Joining as the Business Support Specialist within Compliance, Isaac will be able to leverage his skills and experience to provide capability and support to the Compliance and Security teams. In his most recent role prior to joining NIOA, he assisted in the management and development of bespoke and contemporary training projects.
Scott Thompson - Communications Manager
Scott Thompson joins NIOA as Communications Manager, bringing with him more than 30 years' of experience in mainstream media, public relations and communications. He is a former editor of The Sunday Mail, The Cairns Post, Quest Community Newspapers and the Gold Coast Bulletin. Most recently, he was a Director of 55 comms, a Brisbane communications business, where he gained a reputation for combining compelling content with tactical communications advice to clients across multiple industries including infrastructure, defence, construction, sport and education.
We welcome you to NIOA!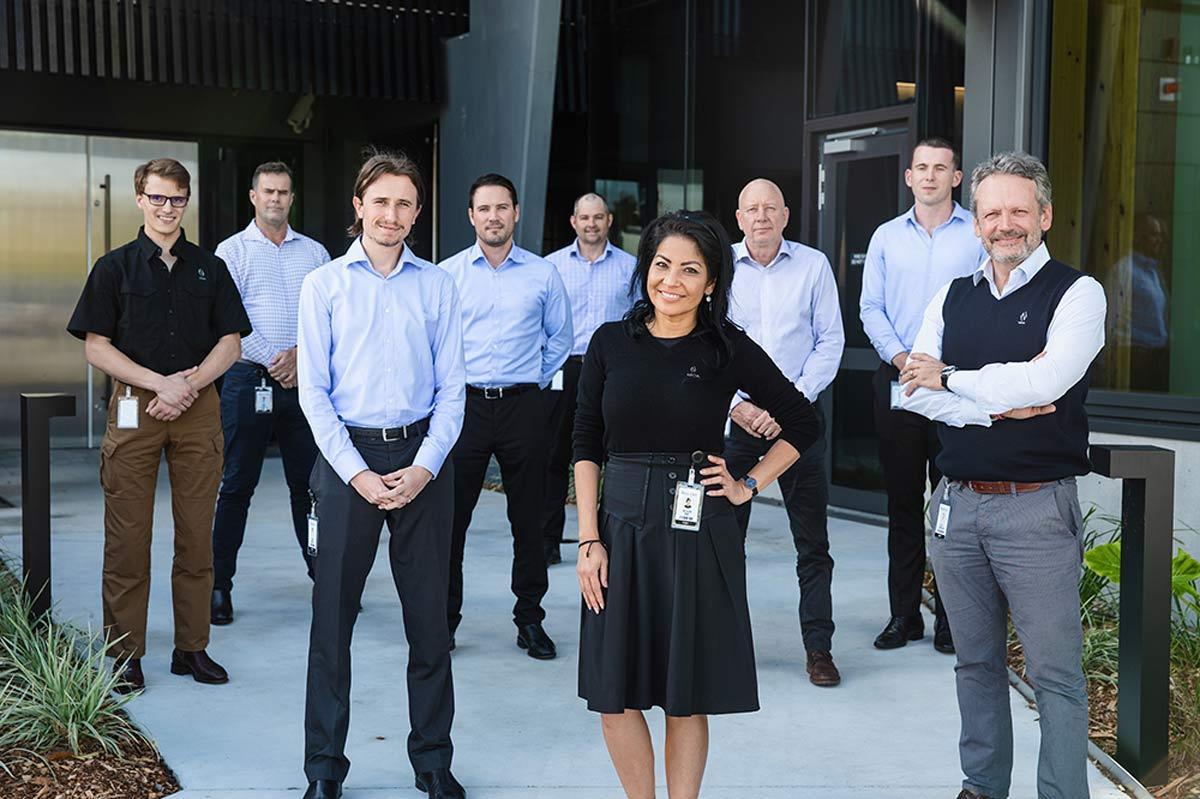 (L-R) Schalk Laubscher, Scott Jones, Josh Nadler, Matthew Cotton, Brad Johnson, Delilah Bok, Martin Land, Isaac Jennings and Scott Thompson