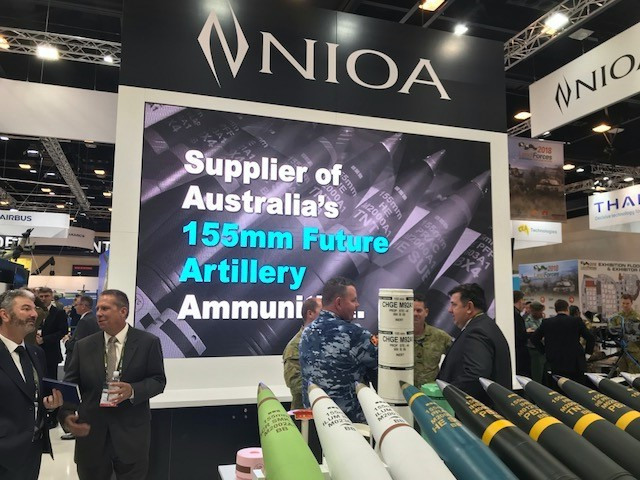 Land Forces 2018 has officially opened, and the NIOA team is proud to present a world class range of cutting edge military technologies from our key partners, Rheinmetall Defence, GD-OTS, Northrop Grumman Innovation Systems (previously Orbital ATK), Vista, SAAB Australia, Junghans Defence, Nitrochemie, Elbit, Colt, Barrett, Revision and Glock.
The NIOA team, along with OEM representatives, will be on hand to answer any questions about our large range of display items, current programs and support services. We have the following items currently on display:
GD-OTS MK47 LWAGL
SAAB Australia LWAGL Training Simulator
GD-OTS M2A1 HMG with LVSII Integration
Northrop Grumman small calibre ammunition from 5.56 to .50cal
Rheinmetall Defence medium calibre munitions including 25, 30 and 35mm
Northrop Grumman 120mm Tank munitions
Rheinmetall 40mm low and high velocity munitions
Rheinmetall Assegai 155mm munitions
Rheinmetall Fragmentation, Air Burst and Sound/Flash Grenades
Nitrochemie Modular Propellant Charges
Elbit Battlefield Management Systems
Revision Helmets and Eyewear

Come and see us at Stand 1P10 and learn more about the advanced weapon systems, munitions and support services we have on offer.