NIOA has been honoured with a prestigious four-peat at the Australian defence industry's night of nights.
The Australian-owned prime was named LAND Business of the Year for the fourth consecutive year at the Defence Connect Awards last night in Canberra.
NIOA was also a finalist in the Prime Contractor of the Year category, as well as Innovator of the Year for its work in creating the Australian Missile Corporation.
More than 900 people attended the annual black-tie event which celebrates the defence industry, acknowledging the achievements of primes, SMEs and individuals including executives, scientists, technicians and marketers.
NIOA swept up top honours in 2019, 2020 and 2021 as LAND Business of the Year.
Group CEO Robert Nioa said the company was humbled to be recognised for the fourth year in a row.
"It's something every NIOA team member can be extremely proud of," he said.
"This is a tremendous acknowledgement for our outstanding people and their sustained commitment to delivering excellence.
"It has been a big year across the business and a great lead-up to 2023 when we will mark 50 years in the firearms industry.
"Our plan is to continue to grow as Australia's leading firearms, weapons and munitions company, delivering on our promise to build sovereign capability."
Founded in regional Queensland in 1973, NIOA has more than 180 staff with offices and operations in Brisbane, Canberra, Melbourne, Benalla, in regional Victoria, and Lithgow in New South Wales as well as New Zealand and the United States.
In recent years, the company has invested more than $130 million in domestic munitions and explosives manufacturing including a $90 million artillery shell forging plant in Maryborough, Queensland, with joint venture partner Rheinmetall Waffe Munitions and a $15 million refurbishment of the government-owned contractor-operated (GoCo) munitions plant at Benalla.
The Maryborough factory and Benalla operations will see NIOA play a major role in delivering non-guided munitions for the ADF, including the LAND 17 Phase 1C.2 Future Artillery Ammunition.
As the Prime Contractor for Tranche 1 of the LAND 159 Lethality Systems Program, the company has been entrusted with delivering the next generation of weapons systems to Australian soldiers.
The company founded the Australian Missile Corporation which has been invited to work alongside other industry partners including the US-owned missile giants Lockheed Martin Australia and Raytheon Australia on the acceleration of an Australian guided weapons and explosive ordnance (GWEO) enterprise.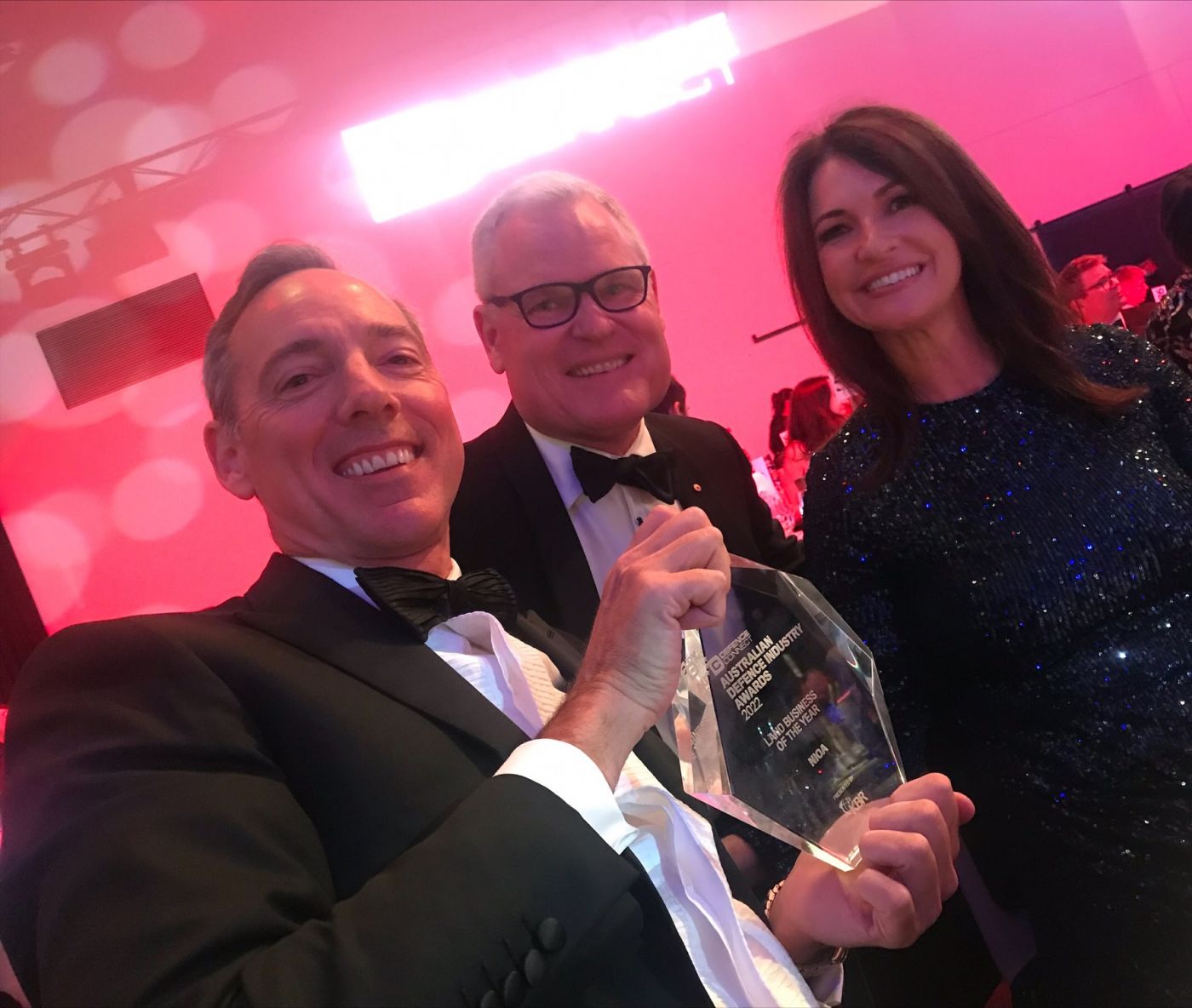 Group CEO Robert Nioa, left, wife Eliza and NIOA Weapons and Munitions general manager Ben James celebrate winning LAND Business of the Year for the fourth time.