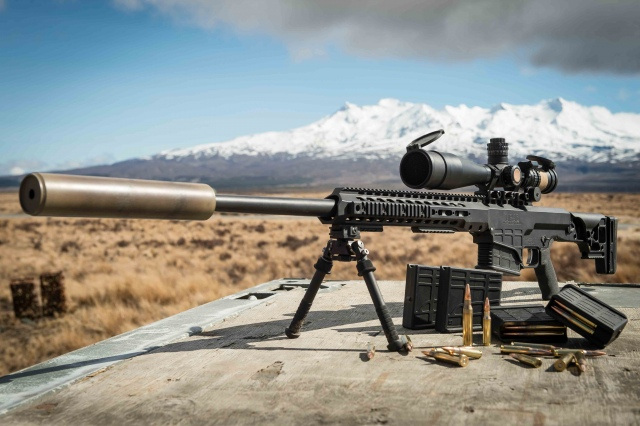 NIOA is pleased to announce the company's selection as the Prime Vendor to supply the New Zealand Defence Force (NZDF) with Barrett M107A1 and MRAD weapon systems. This selection strengthens NIOA's current relationship with the NZDF supplying and supporting their new Personal Protection Weapon, the Glock pistol.

In May 2015 NIOA supported a 'Battle Lab' in New Zealand to demonstrate the capability of the .50BMG Barrett M107A1 anti-materiel rifle. Then later in 2017 NIOA took part in an open tender to replace NZDF's existing sniper rifles with a new .338 Lapua Magnum weapon system and after a very extensive evaluation period, Barrett's Multi Role Adaptive Design (MRAD) rifle was selected. NIOA were advised that the MRAD stood out during the functionality testing and is clearly the sniper's choice of rifle to take into the field.

NIOA has worked very closely with several international companies to provide two fully integrated weapon systems to the NZDF. This has allowed NIOA to bring the world's best technologies to the New Zealand Defence Force such as the Ballistic Computer BC-01. They have adopted the BC-01 that is fitted to the Nightforce ATACR optic on the Anti-Material Weapon System. The BC-01 is more than just a Ballistic Computer, it can have the actual trajectory of a projectile as measured by doppler radar entered into the computer which assists in first round hits at extended ranges. The companies that NIOA have worked with to bring these systems to the NZDF include; Barrett, Nightforce, Leupold, Kestrel, Cruxord, B & T Industries, Armageddon Gear, Accuracy 1st, TAB Gear, I.E.A Optics and Bowers Group.

Major George Tweedy, the project manager for the sniper rifle and anti-materiel rifle, stated the MRAD did extremely well in 18 usability tests and was by far the easiest rifle to handle.
"Whilst all sniper rifles are inherently accurate, the ability to use the MRAD straight from the box was a major advantage for NZ snipers, with major considerations being easy to learn, easy to use and extreme accuracy. Matched with the Nightforce ATACR using a TreMor3 reticle and a Kestrel ballistic computer we were able to engage Fig 11 targets with a 1st round hit at 1500m, and with accurate corrections by the spotter consistently engage at ranges beyond this.

The .50 BMG M107A1 anti-materiel rifle was also extremely easy to learn and use straight from the box, and matched with the same Nightforce ATACR sight and fitted with a BC-01 ballistic computer, it greatly reduced the engagement times for multiple targets at varying ranges. Utilising a tripod system made specifically for the M107A1, we were also able to use the weapon in every firing position from prone, kneeling, sitting and standing which is some feat for a weapon the weighs in at just over 17kg fully loaded."

Major Tweedy was grateful for the support provided by NIOA, Barrett, Nightforce and Cruxord during all evaluation activities, and stated the ability to call someone direct from the range when they had an issue or needed to clarify something was invaluable.

NIOA will continue to work closely with the NZDF and its international partners to deliver the latest Anti-Materiel and Sniper capabilities to the NZDF in early 2018. Once these weapon systems are introduced into service with the NZDF, NIOA will support both weapon systems through their life of type.

For more information about the Barrett M107A1 or MRAD rifle systems, please contact the NIOA Government Sales Team.
Phone: 07 3621 9955
Email: govtsales@nioa.com.au

All images/videos courtesy of NZ Defence Force