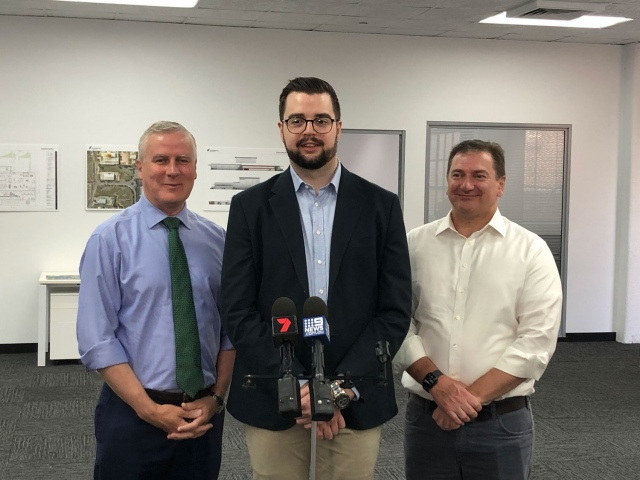 Rheinmetall NIOA Munitions [RNM] is pleased to announce it has officially opened its Project Office in Adelaide Street, Maryborough.
Through the Project Office, RNM will deliver the construction of a $60 million state-of-the-art munitions forging facility in the regional Queensland city, creating up to 100 new jobs in the Fraser Coast region.
The Deputy Prime Minister, Hon. Michael McCormack MP, and Federal Member for Wide Bay Mr Llew O'Brien were on hand to officially open the Office.
The Federal Government is committing $28.5 million towards the forging facility from its Regional Growth Fund.
Werner Kraemer, CEO Rheinmetall Waffe Munition and Chairman of Rheinmetall NIOA Munitions, said "This is a very important first step. To now have our Project Office open in Maryborough allows us to ramp up local operations as we build momentum towards first site works".
"We are fully committed to Maryborough and the Project, through this commitment we want to create regional jobs and build a sovereign capability".
Robert Nioa, Managing Director of NIOA and Director of RNM, said "In addition to the opening of our Project Office, we're pleased to confirm the employment of Mr Jeff Crabtree as the Project Manager".
"Jeff who lives in the region, will bring a wealth of local knowledge and be based in the Project Office and be responsible for the delivery of the project".
"We want to create as many local opportunities as possible. We're also looking to employ an Office Assistant in the near future, as well Expressions of Interest are currently being run through the ICN Gateway, we'd encourage local businesses to get involved where possible".
Mr Nioa paid tribute to the Federal Member for Wide Bay Llew O'Brien MP for his ongoing support for the project "Llew O'Brien has been a strong supporter of this project right from the start, we very much appreciate his tireless and ongoing efforts," Mr Nioa said.
The Queensland State Government through the Jobs and Regional Growth Program and Fraser Coast Regional Council have also confirmed their support for the Project.
Construction of the new facility is expected to commence in early 2020 and be fully operational by 2022.