NIOA notched a notable milestone last week, with 170 people now employed across our various operations – from Brisbane to Benalla, and Lithgow to the "Land of the Long White Cloud" – we continue to attract outstanding people in their respective fields. Welcome aboard!

JANUARY

Ellise Roofayel – Legal & Commercial (Brisbane)
Ellise Roofayel joins the Legal and Commercial team as a Commercial Specialist, bringing to the role vast experience from her work across various business sectors. Previous to NIOA, Ellise worked as the Commercial Manager for Intellihub Metering, an Australian and New Zealand based utility services company and in the commercial sector for the Australia Pacific LNG Project
Dianne Burns – Operations (Brisbane)
Dianne joins us as a full time cleaner. Di has been a cleaner since February 2006, working for several companies such as Duncan's Cleaning Service, Glad Retail Cleaning and subsequently Securecorp where she worked for the past seven years in the Brisbane Airport precinct.
Leanne Merrett - Finance & Admin (Melbourne)
Leanne joins NIOA as the new Office Manager in Melbourne, having previously worked in a variety of supporting roles across the IT, security and finance industries.
Glyn Yates – Production (Benalla)
Bringing 40 plus years of experience and knowledge to the company, Glyn has held a variety of positions across industry, including Rolls-Royce to learn robotic welding. Glyn migrated to Australia from the UK and has worked on welding construction for oil rigs, fabrication of pipes and tanks for the CFA's firefighting trucks and pipefitting on Australian Naval vessels
Ben Waldeck – Legal & Commercial (Brisbane)
Ben is NIOA's legal counsel who joins the team after working in international and boutique law firms in the areas of litigation, corporate & commercial, intellectual property, and technology law.
Greg Flissinger – Production (Benalla)
Greg joins NIOA with an extensive background in munitions manufacturing, Major process improvements with explosive production processes and has a background in leading a maintenance team within a major hazard facility.
Chris Olorenshaw – Engineering (Melbourne)
Chris is a senior engineer with significant experience spanning air, land and weapons programs. His support to Defence has included systems qualification, test + evaluation, introduction to service, systems engineering, and platform certification. In 2021, he was recognised as a Defence Industry rising star, short-listed as a finalist in the category of Engineer of the Year.
Cameron Olive – Weapons & Munitions (Brisbane)
Cameron joins NIOA as a procurement and acquisition specialist, having come from working with the Reece Group for the past 15 years within various roles of management, customer service, stock control and warehousing.
Troy Kennedy – Project Manager Large Calibre Munitions (Brisbane)
Troy brings 30 years of experience to NIOA in the defence industry with a background in both armament and avionics. Being employed on platforms such as F-111s, Super Hornets, Wedgetail and C-17s, Troy has had the opportunity to be involved with weapons and munitions, aircraft gun systems, and escape and survival systems.
Olivia Fraser - Finance & Admin (Brisbane)
Olivia has completed studies in accounting and bookkeeping and has spent the past year working as an administration assistant/bookkeeper for a firearms retailer, as well as performing some compliance functions.
FEBRUARY

Anastasia Anagnostou – Human Resources Administrator (Benalla)
Anastasia comes to NIOA Benalla, with 13 years' experience, working with the Mental Health Practice Development team at Albury Wodonga Health. Anastasia has recently completed her Bachelor's degree in Business Management/Human Resources and brings with her expertise in the coordination of workforce training and professional development programs.
Kirsten Davies – Work Health Safety Lead (Benalla)
Kirsten possesses a high level of knowledge and experience in Defence, both as a civilian and in uniform, with previous roles in procurement, maintenance management, logistics and supply chain management. Kirsten also has a law enforcement background and possesses qualifications in the application of safety practices in the workplace.

MARCH

Johnny Bannach – Marketing (Brisbane)
With more than 15 years of experience in the creative and marketing fields, Johnny arrives at NIOA as graphic designer ready to help the team with his skillset. Johnny also experienced tactical training while working for the Brazilian Police Force.
Brett Wellins – Operations (Brisbane)
Brett graduated from high school in 2020 having completed a Cert III in information technology and digital media. Brett then worked as a delivery driver while completing his warehousing operations Cert II and obtaining his forklift licence.
Carl Norton – Engineering (Lithgow)
Carl is a Chartered Professional Engineer and joins NIOA as a Senior Mechanical Design Engineer. His most recent experience follows several years at the Lithgow Arms facility working on several F90 and Civil Rifle projects, namely integration of the Smartshooter SMASH sights and the LA105 Series Rifles. He has specialised in industrial design, with focus on mechanical 3D CAD development, product lifecycle management (PLM), rapid prototyping through 3D printing and Model Based Definition.
Sigrid Leicht – Legal & Commercial (Brisbane)
Sigrid joins NIOA as a paralegal with over 10 years' experience in the legal sector working in roles across Sydney, London and Brisbane, initially as an executive assistant and then moving onto paralegal roles. Sigrid is currently completing her law degree.
Emily Jaswinsky – Marketing (Brisbane)
Emily has several years of experience within the creative industries and joins NIOA as a junior marketing assistant to help the team with their marketing and design needs. Emily has a Bachelor of Design (Interactive and Visual Design with Honours from QUT) and has worked as an intern and as junior graphic designer.
Caleb Ball – Operations (Brisbane)
Caleb joins the busy warehouse team as a much-needed Storeperson. Caleb has previous customer service/warehouse experience and is excited to join our industry and NIOA.
Courtney Hannah – Finance & Admin (Brisbane)
NIOA welcomes Courtney Hannah - Junior Finance & Administration Assistant. Courtney has been in the hospitality industry for 11 years but is looking to further her career in finance, with previous roles in customer service and sales.
APRIL

Tim Donnelly – Legal & Commercial (Brisbane)
Joining NIOA as a Junior Lawyer, Tim has a variety of experience gained both in private practice and within a range of corporate and family-owned agri-businesses. He is also an active member of the Australian Army Reserves and is currently posted to the Queensland University Regiment.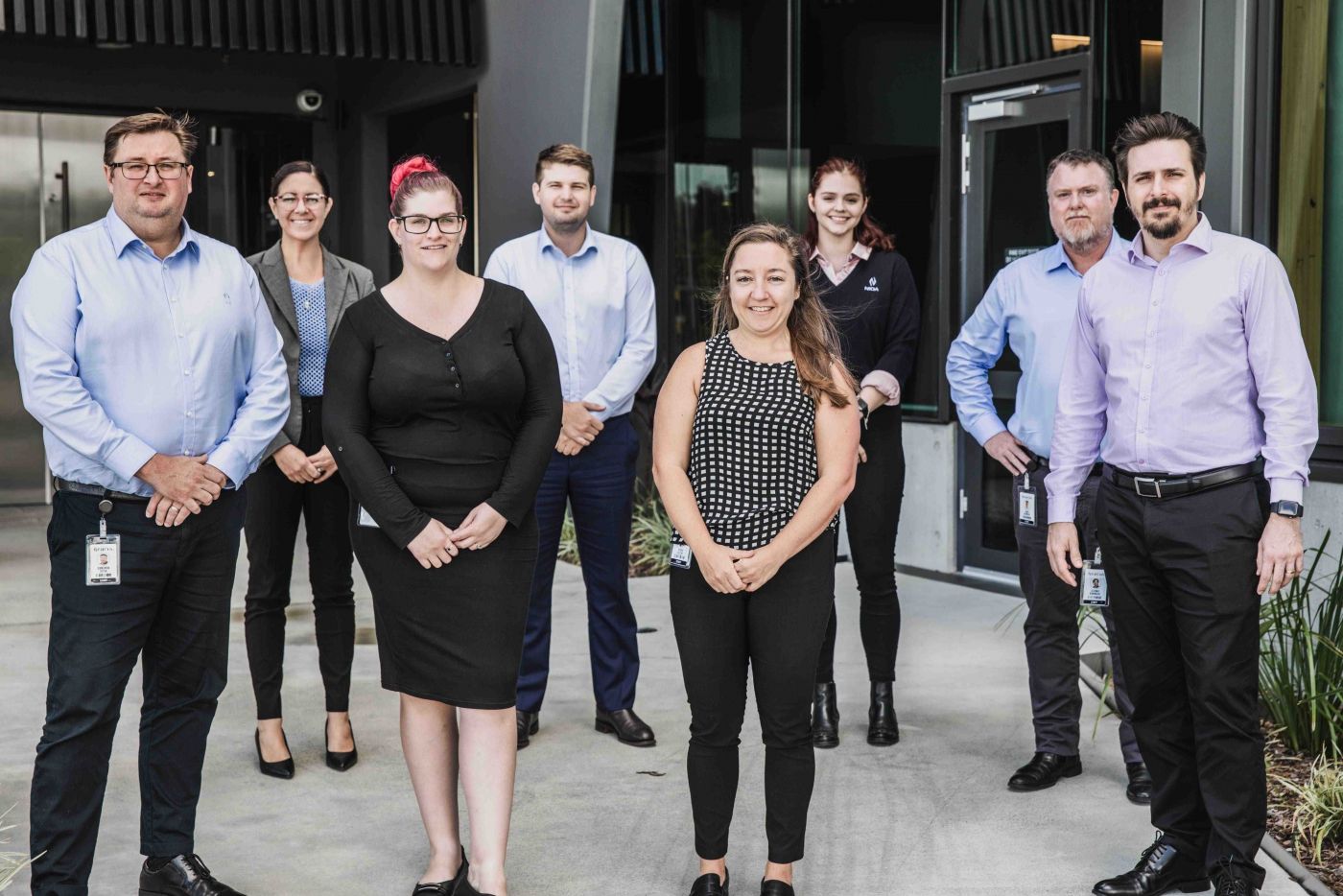 (L-R) - Cameron Olive, Courtney Hannah, Tim Donnelly, Sigrid Leicht, Emily Jaswinsky, Troy Kennedy, Johnny Bannach.